Crane operator training
A must for safety in operation
Wherever heavy loads are moved within a production process, they are now indispensable: crane systems. They are available in a wide variety of variants. From simple, manually operated cranes to complex computer-controlled, fully automatic crane systems. But they all have one thing in common: they must do their job safely and trouble-free. It is the job of a crane operator to ensure this. Specially trained personnel authorised to operate the relevant crane systems. Without appropriate training, a crane operator cannot correctly perform the following tasks: Calculate payloads, correctly select and use sling and load handling equipment, identify hazards and professionally counteract them. Only through qualified training as a crane operator are company employees able to avoid the risk of accidents and the consequences of damage.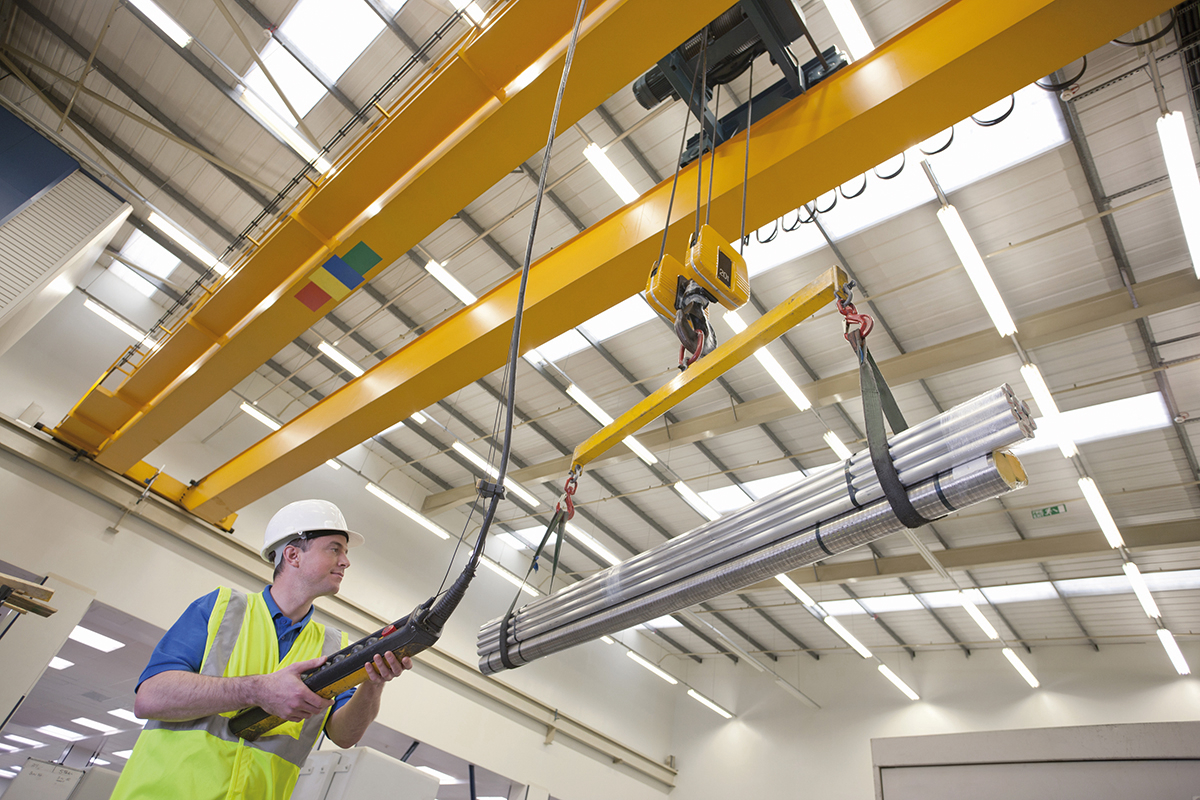 The difference between manual, part-power and power-operated cranes
In a manually operated crane, all lifting, lowering and traveling functions are performed manually by muscle power. A crane that can lift and lower by motor, but is moved manually, is partially powered. A crane that lifts and lowers motor-driven and moves into another axis motor-driven is power-driven.
What does the legislator say
The DGUV stipulates in its principle 309-003 that training as a crane operator must always take place, even for manually operated cranes. In the case of manually operated cranes, instruction in accordance with DGUV regulation 1 is sufficient. As soon as a crane is partially powered, it must be trained in accordance with DGUV Principle 309-003. Here part-power driven cranes with 1 training day and power driven cranes with 1-5 training days are defined.
Principles of prevention - DGUV regulation 1:
"The employer shall instruct the insured persons accordingly on safety and health protection, in particular on the dangers and measures associated with work in order to prevent them (§12 para: 1//ArbSchG)".
"The instruction shall be repeated if necessary, at least once a year and documented".
"The entrepreneur shall communicate to the insured persons in an understandable manner the contents of the UVV, BG regulations and rules relevant to their area of work or activity, as well as the relevant state regulations and rules.
DGUV regulation 52 §29
In addition to theoretical knowledge transfer, the training includes the opportunity to acquire sufficient driving experience and the ability to identify deficiencies that endanger work safety.
DGUV Principle 309-003
The proper use of cranes requires that the crane operator carries out the transport tasks reliably and safely. During crane operation, various loads are usually lifted, moved and also carried over people and material assets. Since improper use can result in danger to persons and serious damage to property, thorough and comprehensive instruction of persons who are to be entrusted with the independent operation of cranes is required. The contractor who instructs the crane operator to operate the crane is responsible for selecting and instructing the crane operators.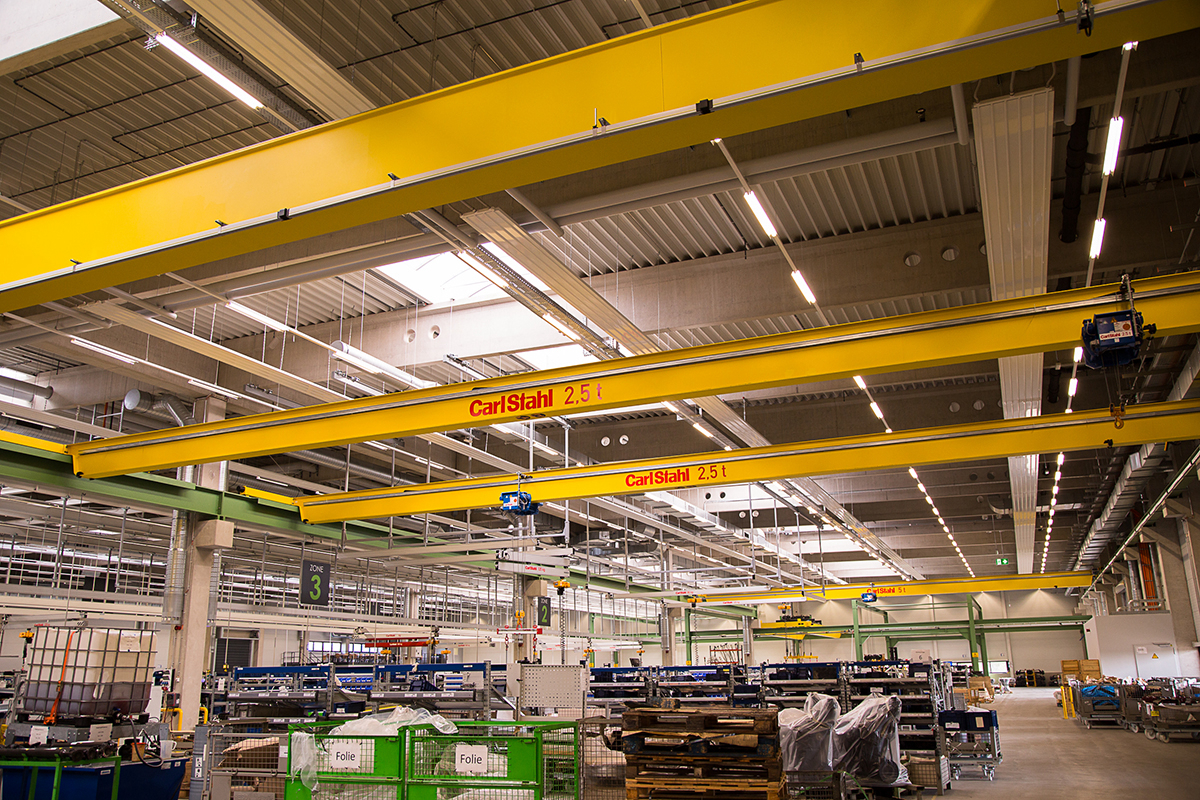 Chapter 3.1 "General" states that the instruction must consist of a theoretical and a practical part. The content and duration of the training depend on
From the crane type to be controlled
Of the crane work to be carried out, including lifting operations
From the operating environment (e.g. foundry, power plant, construction site)
The previous knowledge and the personal receptiveness of the trainee
Of the number of course participants
Experience has shown that the following guidelines must be observed for the duration of the instruction:
Partial power cranes 1 day
Floor mounted cranes 1 to 5 days
In accordance with § 4 of the accident prevention regulation "Grundsätze der Prävention" (BGV A1), instruction is also required for the operation of manually operated cranes. For this purpose, the content and scope must be adapted to the hazards arising in this context.
The contents of the training
DGUV Principle 309-003 Chapter 3.2.1 "General":
The necessary theoretical knowledge for safe working with cranes must be imparted. This includes basic knowledge of design, mechanical, electrical, hydraulic and pneumatic interrelations as well as the provisions of the relevant accident prevention regulations. The design shall be described in as much detail as this knowledge are necessary for the correct control of the crane and for the detection of defects. The safety concerns from the relevant accident prevention regulations must be integrated into the individual training sections. The responsibility of the crane operator with his rights and duties is to be handled in a special way. Particular reference must be made to compliance with the operating instructions.
The following topics are to be dealt with:
crane technology
- Definition and terms of cranes
- Crane types (see e.g. DIN 15 001-1 "Cranes; terminology, classification according to type")
- Basic physical terms as far as required for the safe operation of cranes (e.g. lever law, stability, mass, force, centre of gravity, working speed, acceleration, mass inertia/pendulum)
- main assemblies
- Drives, engines
- Power transmission elements
- machine components
- hydraulic system
- pneumatics
- Electrical equipment
- load-bearing equipment
- crane tracks
- railway tracks
- ascents, catwalks
- Safety devices and brakes
- Stability of cranes at risk of tipping (e.g. load capacity, ballasting, support)
- Discard maturity of slinging and load handling attachments
Load-bearing equipment and the attachment of loads
- Definitions and terms of lifting accessories
- Marking of lifting accessories
- Estimation of loads
- Selection and use of suitable load-bearing and slinging equipment
- Correct attachment of loads
- Correct setting down and storage of loads
- Discard maturity of slinging and load handling attachments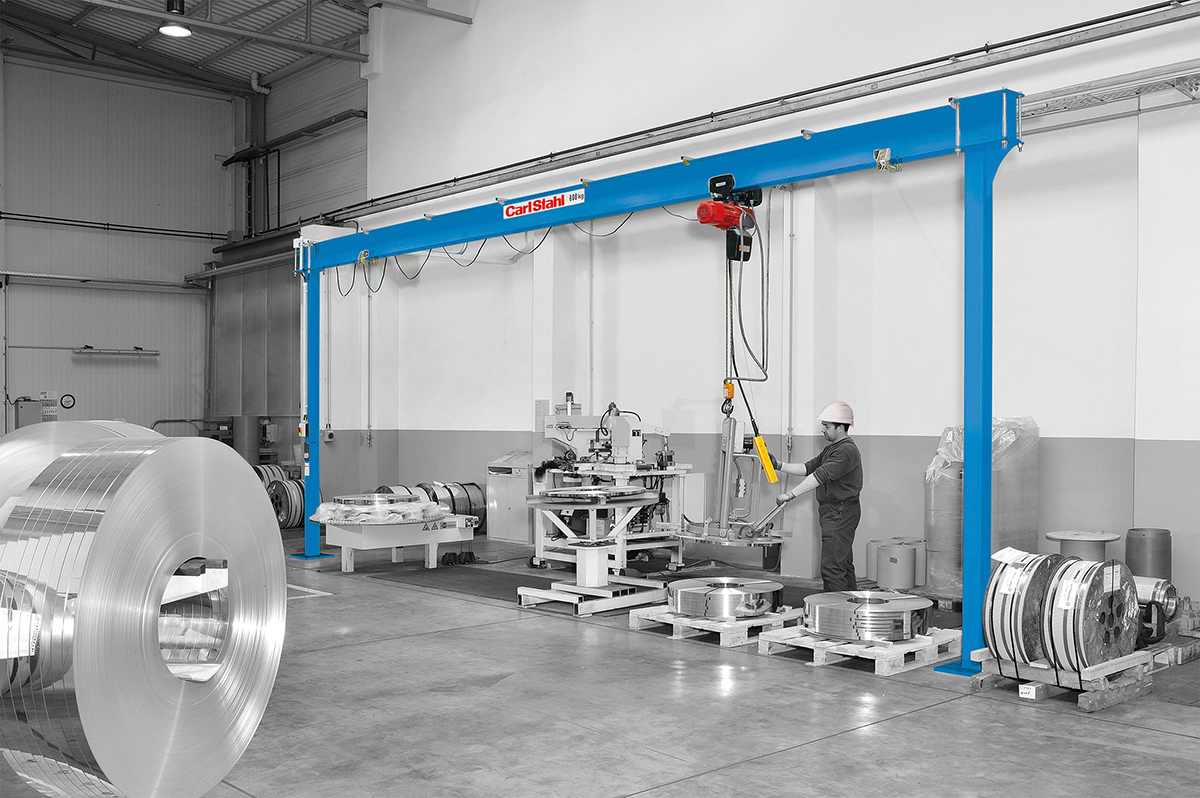 crane operation
- Applications and working methods of cranes
- Instruction manual of the manufacturer
- Operating instructions of the operator
- crane control book
- Hand signals for signposts
- Crane operating mode (e.g. overtravel of the crane, deflection of the crane construction under load)
- Examinations before starting work
- Notification of deficiencies and irregularities detected
- Behaviour in the event of faults
- Coordination and coordination when working areas of several cranes overlap (e.g. priority control)
- additional training for special working methods (e.g. wireless control)
- special hazards during crane work outdoors (e.g. behaviour in wind)
- diagonal pull
- Tearing off stuck loads
- carriage of passengers
- Cooperation of several cranes
- Crane inspection (e.g. intervals, inspectors)
3.3 Practical instructions
In the practical instruction, the crane operator must learn to operate cranes safely and correctly.
The practical training shall include:
1. instruction at the crane
- Explanation of the crane assemblies and their functions
- Checking of the operational and safe condition (e.g. functional test of the brake and emergency stop devices)
- Commissioning of cranes
- Decommissioning of cranes (e.g. inserting the wind safety device, releasing the slewing brake of the tower crane)
- Measures for collision prevention of cranes (e.g. shut-off, movement limitation devices)
- Behaviour in the event of malfunctions
- Set-up work for stationary cranes.
2. exercises with the crane
- Sensitive lifting and depositing of loads, stable centre of gravity when lifting and lowering of loads
- straight-line driving with and without load
- Target driving and target lowering according to specifications
- Intercepting the oscillating load
- Working with a guide
- Working with slingers
- Dialogue travel with all drives
- Driving with bulky parts
- Set-up work on the mobile crane
- Collision prevention measures for cranes
- Use of access equipment for persons
- Attaching loads.
4.1 Proof of knowledge and skills
After the instruction, the crane operator has to complete his theoretical Knowledge and practical skills through a to provide evidence of an audit.
5. certificate of competence
The crane operator is issued with a certificate of qualification based on the successful completion of the test. issued; see Annex 2. The written confirmation shall constitute a certificate of competence. on the achievement of the training objective, indicating the types of cranes for which the qualification has been acquired.
6.1 Form of assignment
The entitlement to operate a crane requires an order to by the entrepreneur. In the case of mobile power-operated cranes, the contractor must to instruct the crane operator in writing;
See Appendix 3 for the model for the assignment of the crane operator.
6.2 Experience-based commissioning
Crane operators should always first carry out simple crane work to be instructed. With increasing experience and after appropriate more demanding crane work can also be carried out. If this is for operational reasons is not possible, the scope of the training must be extended.
DGUV Information 209-012
DGUV Information 209-012 documents the BG principle "Selection, instruction and qualification of crane operators". (DGUV Principle 309-003) Furthermore, the standards for the selection of suitable persons and instructions for their training (instruction) are regulated there in order to enable them to safely operate cranes.
Many companies have introduced a crane driving licence as proof of qualification and commissioning.
Model certificates of competence and written mandates (Figures 2-1 and 2-2 on pages 8 and 9) are given in the annexes to DGUV Principle 309-003.
Are you interested in crane operator training? Then it would be best if you contact one of our consultants today.