The actual situation
As a manufacturer or processing company of round material, I often have the problem that I do not have a suitable and above all certified transport and storage medium with which I can transport and store my material gently, safely and above all efficiently. Whether in operational intra-logistics during the manufacturing process, further processing or transport by land, sea and rail, right through to storage. Perhaps I have helped myself out of necessity by developing my own solution. Although this can be somewhat functional, it often turns out to be inefficient, unsafe, impractical and above all without appropriate certification by the DGUV. So I'll probably get a reprimand at the next security check at the latest. I also lack any documentation. So what should I do if I want to safely transport and store my coils, slit strips, wire rings, round blanks or other round material? So what should I do if I have set myself the goal of streamlining my logistics processes in order to become more effective and save costs? So what should I do if I frequently have to deal with complaints about material damage due to incorrect storage or transport? At first glance, there seems to be no suitable solution on the market. But how can you help yourself and continue as before? Not at all. After intensive research I found a potential, promising provider.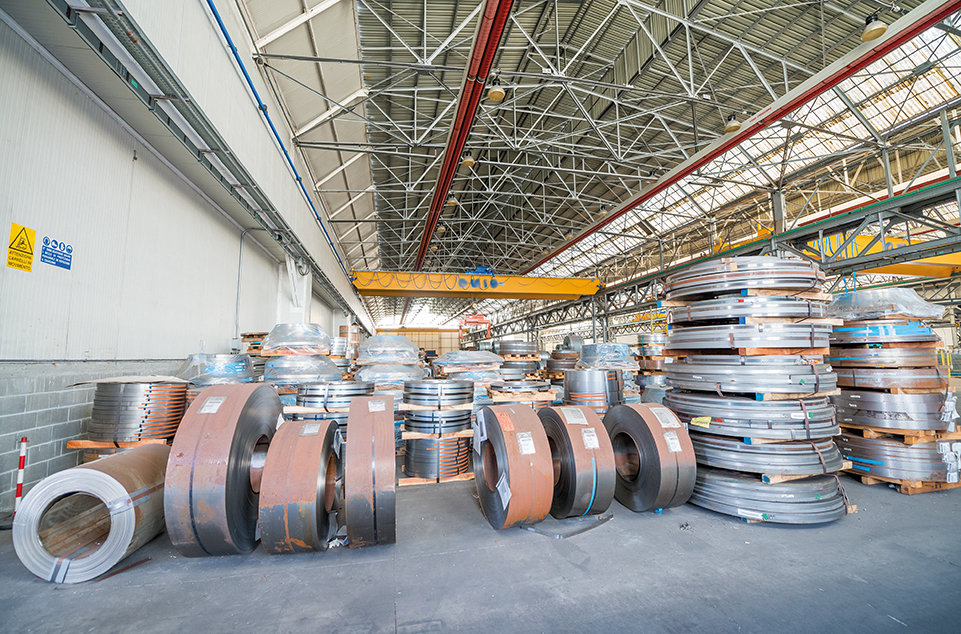 Coil workflow redefined
The initial situation described above was the trigger for UTLS SYSTEM GmbH & Co KG to develop a completely new universal transport and storage system. Coils, slit strips, wire rings, round blanks or other round material can now be transported and stored standing upright and absolutely safely and above all efficiently in this system directly after their production. Thanks to its sophisticated design, the UTLS system can easily be moved by cranes, forklifts or lift trucks. This makes it a real all-rounder transport system from the manufacturer, via transport, e.g. on a truck, to the end user at the machine. A multiple time- and cost-intensive reloading is not necessary. This brings me an effective benefit as a company. The UTLS system is DGUV certified and is essentially suitable for all round objects that need to be transported safely. In addition, the system is certified by TÜV Süd for road transport. This system makes intralogistics material flows and lean concepts faster, leaner, more efficient and safer. And these are real added values that pay off for my company. UTLS System and Carl Stahl have entered into a strategic partnership for the marketing of this system. This gives me a reliable and efficient partner on the market, from whom I can obtain the UTLS system exclusively. With his know-how and his name, Carl Stahl has been a household name for me for years when it comes to the safe and effective handling of loads.
The system in detail - variability beats standard
The UTLS system is based on a modular system. The heart and the basis for the modular system is the base frame. This is available in three different standard sizes in the versions with the designations G1, G2 and G3. The load capacities range from the smallest frame, the G1, to the largest frame, the G3, from 5,000 kg to 12,000 kg as standard. This gives me as a company a lot of choices to choose the right frame for my material. The overall height of the system varies depending on whether the rack is to be stacked loaded or unloaded. The height for the racks that can be stacked during loading is based on the maximum coil diameter that is permitted for the respective rack. All racks can be moved with a load handling device, e.g. a cross beam, a chassis or a forklift truck. The frames consist of a welded steel construction which is then painted in light grey. For an extra charge it is also possible to order a different colour for larger quantities. To protect the round material within the frame, the contact points are additionally equipped with a material-protecting plastic.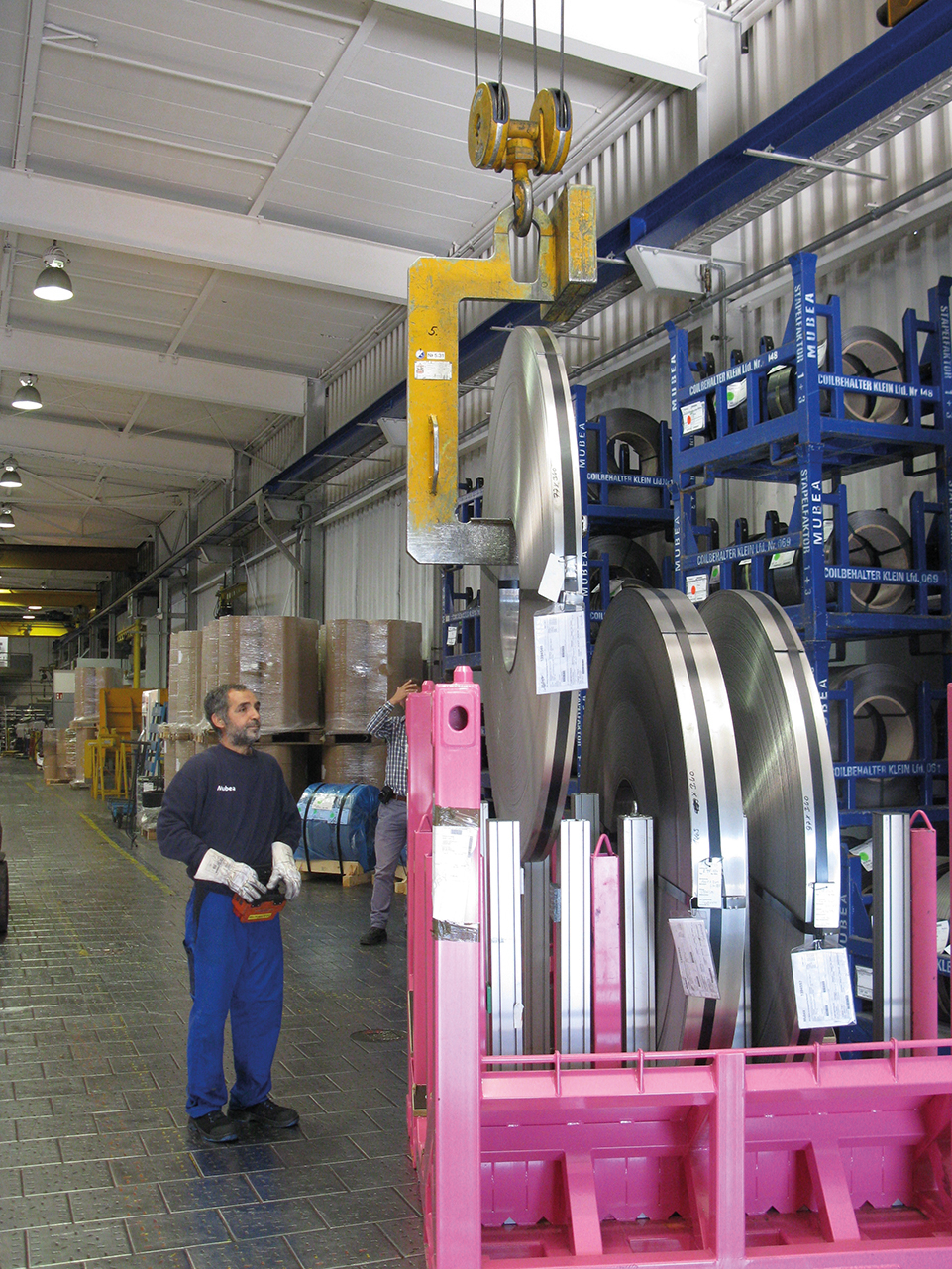 The stanchions - so that everything stays in its place
The supports on which the round material rests are colloquially called "stanchions" in the truck sector. For the optimal securing of the materials on the racks, there is a large number of different stanchions available. From the patented Vario stanchion, which can be extended on one or both sides and thus secures the load in the frame in a form-fit manner, to the folding joint, with which the stanchion can be folded down for faster unloading. The stanchions are always available in so-called sets, consisting of two stanchions, as the design of these stanchions is matched to each other. I always need at least two sets to secure a round material. For each additional material I only need one more set.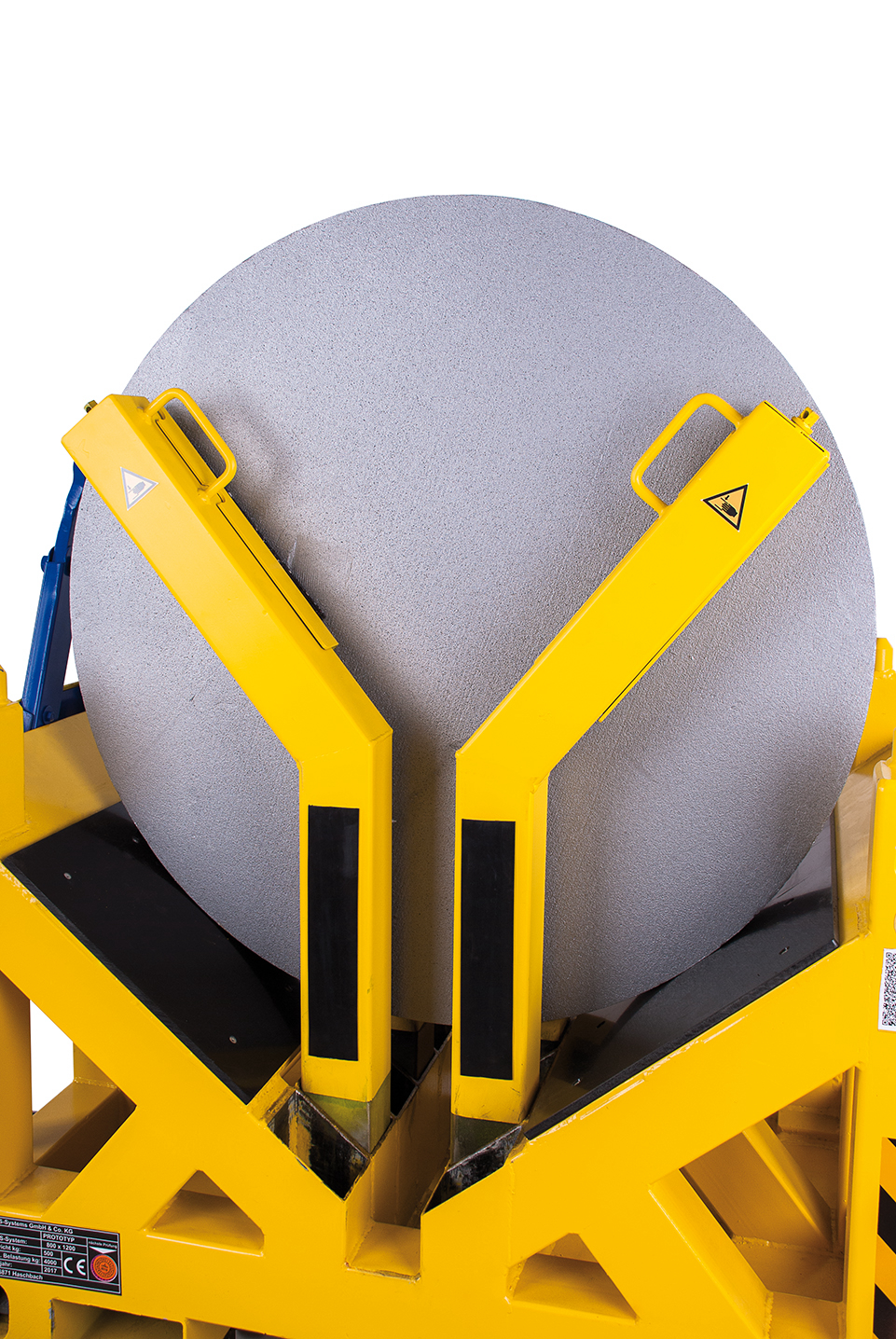 The chassis - intralogistics made simple
There are two different chassis systems for each type so that the frames can be moved easily and safely even when loaded. On the one hand the high-quality and flexible, self-developed rotary chassis FR5 according to DIN ISO 1162, adaptable to all frames and on the other hand the chassis FS2-G2-12T and FS2-G3-12T, suitable for the frames G2 and G3. The main advantage of the FR5 is that it can rotate on its own axis when attached to the frame. The cheaper FS2 chassis has a maximum steering angle of 45° and is therefore not quite as flexible as the FR5. To attach the frame to a forklift truck, for example, there is also a suitable drawbar for each chassis.
Accessories
For the UTLS system there are a lot of useful accessories. Carl Stahl, for example, offers me an adjustable traverse with which I can securely attach all frames and lift and move them over an existing indoor crane. If I want to connect several racks for the internal transport of goods as a so-called route train, I have a so-called bridge fitting at my disposal. This metal clamping mechanism is attached to the ISO container corners of the racks. And if I have to store my racks outdoors due to lack of space, I have so-called weather protection hoods made of robust PVC material available for each rack.
If interested, Carl Stahl currently offers six different demonstration devices for testing.
Contact: utls@carlstahl.com